Hunting Information by State
Finding hunting information for all of the major elk hunting states in the western United States can be an arduous task.  While each state has a website with hunting information, they are all organized differently.  It can be difficult to find the answers to your questions, especially if you are new to elk hunting and don't know what questions to ask.  To make matters worse, states often use different terminology for similar concepts.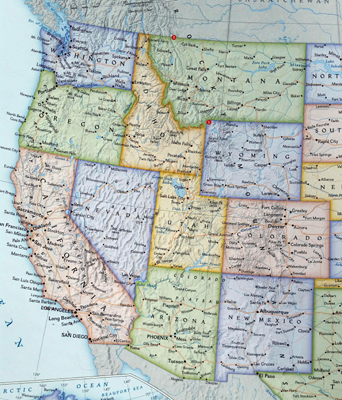 To help clear things up, let's start with some of the basics.
Hunting License / Tag
Most states now require a hunter to purchase a hunting license that is separate from the species specific tag or permit.  The hunting license may allow hunting of small game or non-game species, but to hunt elk, an elk tag must also be purchased.  Both the license and the tag/permit are required.  Some states offer multi-species packages that allow you to hunt more than one species at the same time.  Others may not offer package deals, but may have concurrent seasons.
Draw System
Virtually all of the elk hunting states have a lottery drawing system for issuing tags or permits.  Hunters submit applications for the specific hunting units, seasons, and weapons for the hunts they are interested in.  Application deadlines are typically in the spring, with results available a few weeks after the deadline.  Applications can be submitted online or via the United States Postal Service.  Multiple hunters can apply together, so that they can hunt together if they successfully draw a tag.  Odds of success can vary greatly by state, hunting unit, season, choice of weapon, etc.  Some states have a waiting period that forbids a hunter who successfully draws a tag to apply for that species in subsequent years until the waiting period is over.
Point Systems
In this case we aren't talking about antler points.  Some states have such high demand for their elk tags that it is extremely difficult to successfully draw a tag in a random drawing.  To address this issue, they have created point systems where unsuccessful applicants receive points that they can use in future years to increase their odds of successfully drawing a tag.  Some states even allow you to purchase points in years that you aren't even applying.  This allows a hunter to build up points in multiple states without running the risk of successfully drawing tags in two states at the same time.
Over The Counter (OTC) Tags
A few states have tags available for purchase outside the lottery system.  These are usually for areas that are not in high demand, and/or have an abundance of elk.  Since hunting is the primary tool for elk population management, OTC units can vary year to year due to elk population changes.  Even states that don't have OTC designated hunting units may still have some OTC opportunities.  For units that have more tags available than applicants in the draw, left over tags are often sold on a first come, first served basis.  But these tags are usually small in number and in high demand, so they aren't available for very long.
Fees
It is up to each state to determine the fees that they will charge for hunting, and each state is different.  But all of the states have higher fees for non-resident hunters than for resident hunters.  Fees can even vary within a state depending on whether it is a cow or a bull hunt, or if the specific hunt is in high demand.  In addition to license fees and tag/permit fees, there are typically application fees and sometimes access fees and habitat fees.  When researching hunting information, be sure to understand all of the fees you will be expected to pay.
Success Rates
Some of the hunting information provided by the states includes data for the ratio of animals harvested to the total number of hunters for a given hunt.  This data may be available for the most recent year, or for several years in the past.  Just as in investing, past performance is no guarantee of the future, but it can give you an idea which units and hunts have the higher success ratios.
Hunting Application Services
Due to the complexities of applying for hunts in different states, there are companies that specialize in helping hunters apply for hunts that meet their needs.  For hunters without the time or inclination to research the state specific hunting information on their own, these service companies can be well worth the money.
Hunting Information by State
The table below contains links to the websites for the game departments of the main elk hunting states in the western United States.
Information is for the 2015 hunting year and 2016 information will be added as it becomes available.  We make every effort to provide accurate information, but check the official website before making any final decisions.
Note 1: Over The Counter (OTC) tags are available in some hunting units outside of the lottery draw system.
Note 2: OTC tags are only available as leftover tags that were not issued in the lottery draw system.  These are typically few in number and sell out quickly.