Would you like to know more about elk hunting?  That's what this blog is all about.
Hi, I'm Jimmie Norris, and I'm hooked on elk hunting.  I've been chasing these majestic animals for almost 3 decades, and I can't get enough.  I have learned a lot during that time and I want to share it with you.
Elkhuntersguide.com is my website, where I have been documenting tips, tricks, how-to information to help the first time or experienced elk hunter.  This is my inaugural post for the elkhuntersguide.com blog.  In my weekly posts, I'll share my experiences with you and boil them down to lessons that I learned.  As a reader, you'll have the opportunity to enjoy a good hunting yarn, and learn to be a better hunter while you are at it.  So sign up for the blog, and you'll get a free weekly lesson showing up in your email.
For now, let me tell you how it all started…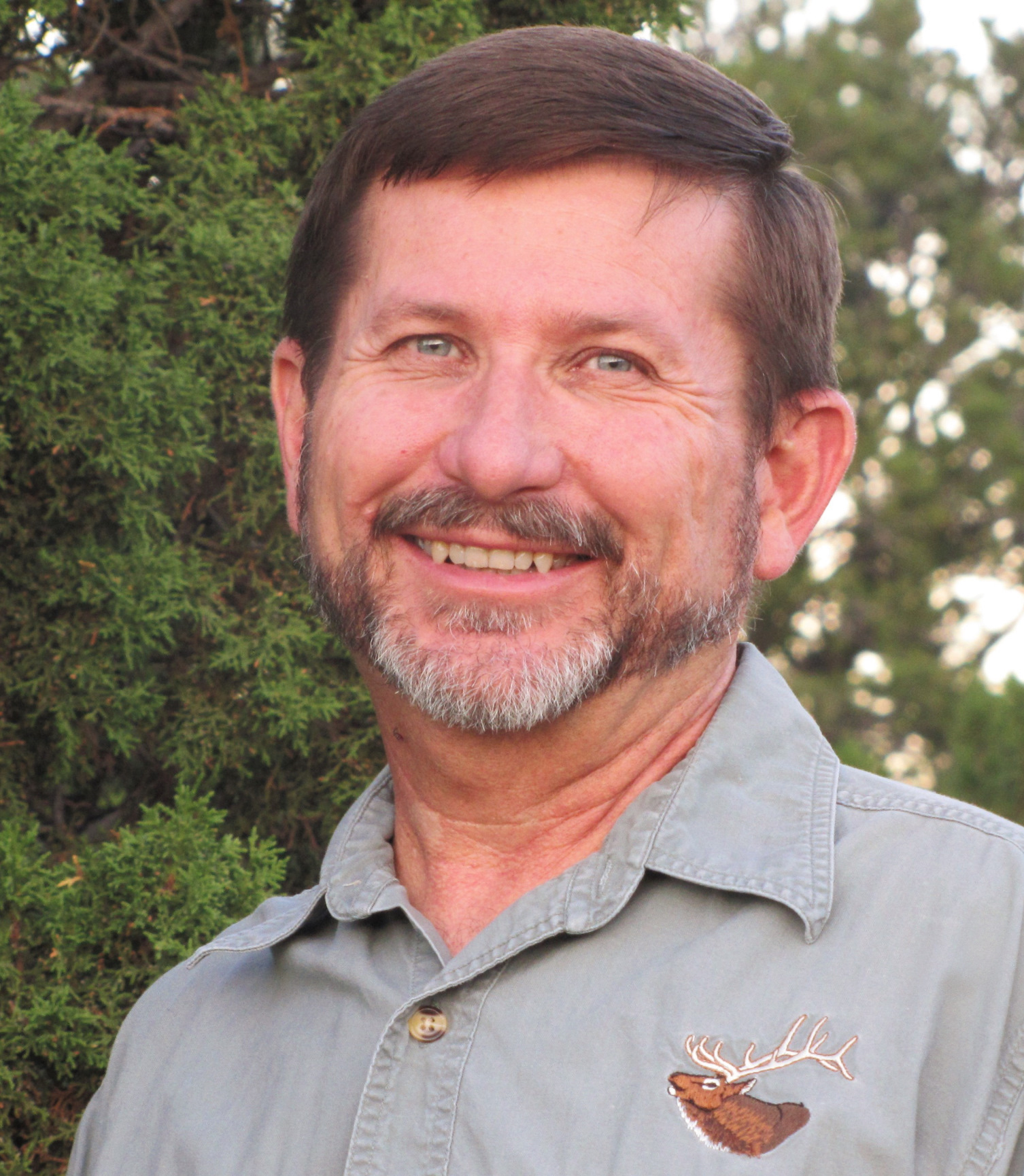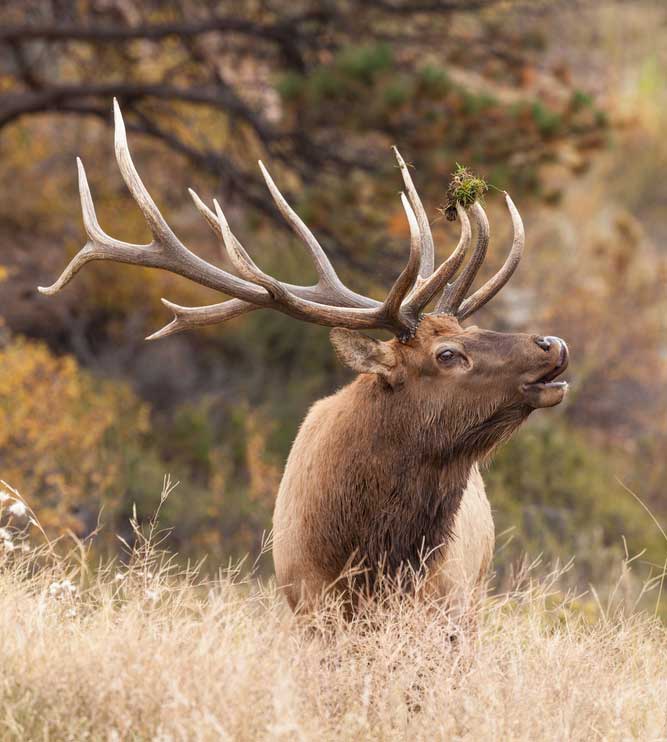 How I fell in love with elk hunting
When I was 19 I was working a construction job in northern New Mexico.  I was friends with someone who worked for an outfitter at a local hunting lodge.  I got acquainted with the boss and he seemed just as anxious to hear my deer hunting stories as I was to tell them.  The next spring he was desperate for some help and gave me a call.  I jumped at the chance to become a horse wrangler for high country pack trips in the summer, and an elk hunting guide in the fall.
Archery elk hunting wasn't as popular in 1980, but we did have a few clients.  Before the season began, my boss sent me on a scouting trip one morning with a flexible pipe fitted with a mouthpiece.  Calling for elk also was not done much back then, but he showed me how to imitate an elk with this contraption, and off I went.
As I approached the place where the outfitter told me to go, I heard a bull bugle.  I closed the distance between us, but hadn't heard him in a while.  I tooted my little horn, and the bull immediately answered.  I had him located.  I moved closer until I could hear him over the next rise, but I wasn't sure how far.  I "bugled" again.  The bull answered immediately.  He began to charge toward me as I hid behind a tree.  He stopped about 40 yards away and began to completely demolish a small tree with his antlers.  At the same time he continued to rattle the entire mountain with his thundering call.  My adrenaline had my heart pumping so hard that I thought my chest would explode!  I eased around the tree to get a better look at this screaming monster, but the bull saw my movement and bolted away.  I was hooked.
I guided elk, deer, and bear hunters that year in archery, black powder, and rifle seasons.  I had many exciting experiences while guiding, but most of them pale in comparison to elk hunting in the warm days of September.  The sounds, the smells, the feelings, the adrenaline are truly addictive.  The cravings start deep inside of me months before the season begins.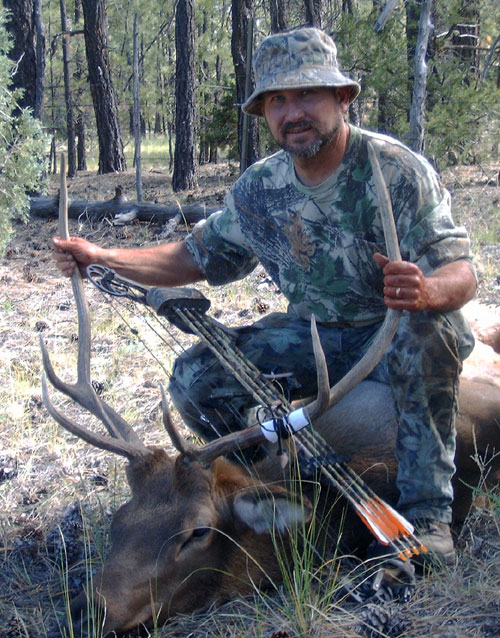 How can my experience help you?
Fast forward 35 years.  I went to college and had a career.  Every vacation was centered around elk hunting.  I raised a family and we all looked forward to elk camp each year.  Now my eldest son is one of my elk hunting buddies, while my younger son calls in the elk for us.  The only "guiding" I do these days is when I take my younger son on his rifle hunts.
But when I decided to retire, I knew that I had to do more than putter around the house.  I couldn't hunt elk all year long, but I could write about it.  I've always enjoyed writing and I love talking about elk hunting.  That's how elkhuntersguide.com was born.
I'm a teacher at heart.  I've always enjoyed showing someone else what I have learned.  That is my goal with elkhuntersguide.com.  I had a good teacher in the outfitter that I worked for.  But that was only the beginning of my journey.  Hunting on my own, I have made many mistakes, and I have learned from each one.  I don't claim to know everything about elk hunting, but I would like to share what I have learned.  Everything on this website and in this blog comes from experience.  Not the experience of a professional writer guided by a professional outfitter hunting on private land.  Mine is the experience of an average guy on a do-it-yourself hunt on public land.  If that sounds like you, this is the place for you.
Website or Blog?
Elkhuntersguide.com is full of informational pages written in an instructional style.  I continue to add more pages on a semi-regular basis as I have opportunity to document more of my elk hunting knowledge.
As you can see, the blog is written in a more personal style.  It will also give you the opportunity to provide feedback and ask questions in the comments section at the bottom.  When you sign up, you'll get an email each week with a link to the new blog post.  It will keep you thinking about elk hunting all year long, just like me.
Website or blog?  You don't have to choose.  Sign up for the blog so that you don't miss a post, but if you ever have a question about elk hunting, visit the website. If you don't find the answer, follow the feedback link on the website or email me at jimmie@elkhuntersguide.com.  I'll do my best to be your virtual elk hunting guide.
The following two tabs change content below.
Jimmie is a retired high tech engineer who now spends his time writing about elk hunting, consulting, and doing DIY projects.
Latest posts by Jimmie Norris (see all)