Elk Camp
Are you putting off planning an elk hunt because you don't have an outfitter's gear?
This article explores many of the options available to have a comfortable elk camp.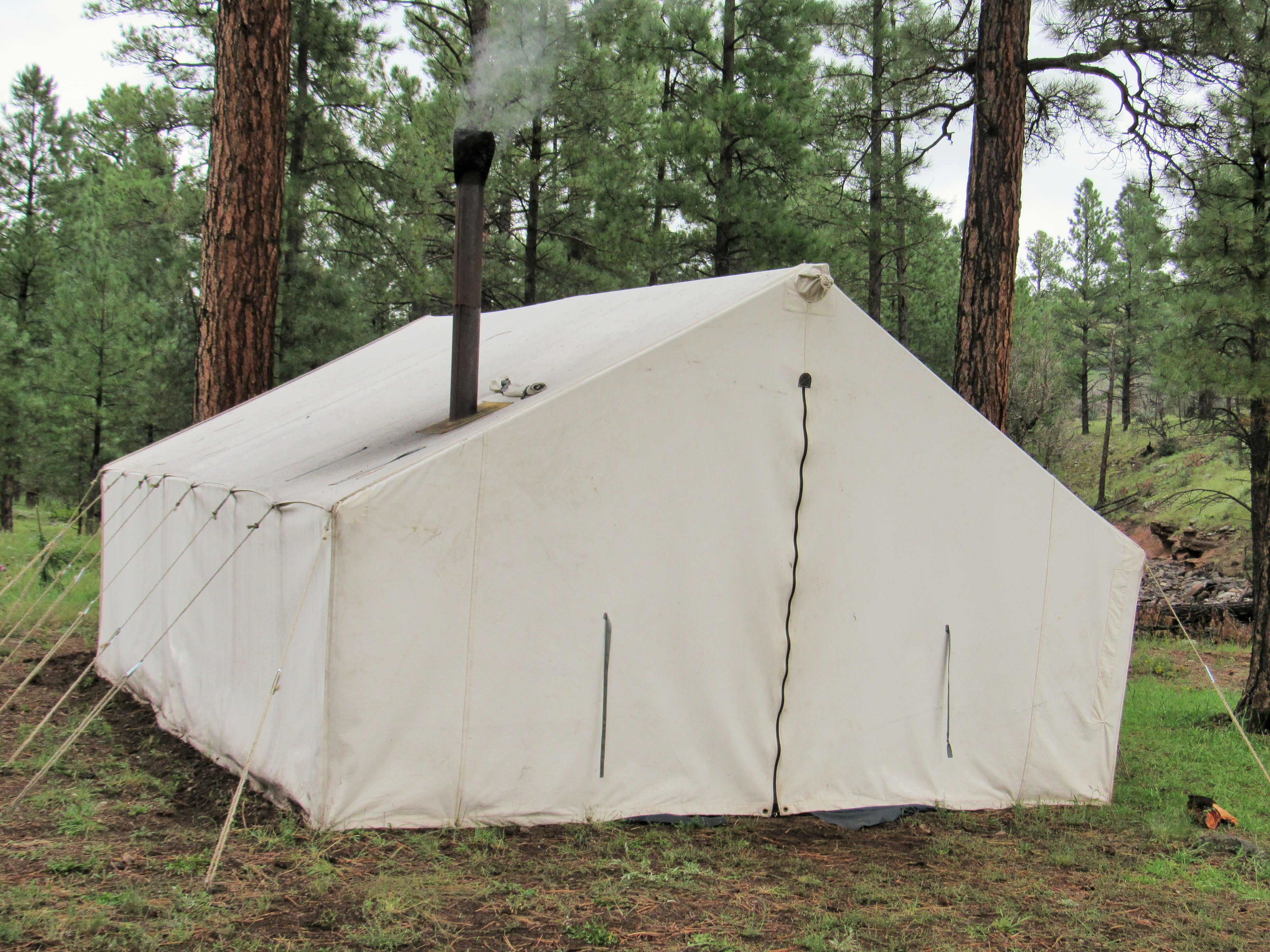 The bacon was sizzling on the griddle when I heard the truck driving up the two track path to our camp.  My hunting buddies, my wife and kids had all gone home for a few days, leaving me alone to continue hunting.
After returning from an unsuccessful early morning hunt, I was cooking breakfast under the large canopy when the truck came to a stop.  The insignia on the door told me that the game warden was here to do his job.  His was a welcome visit since all of my tags were in order.  Maybe I could get some information from him about the location of the elk.
"Who is the outfitter?" the game warden said as he looked around at our extensive elk camp setup.  Sometimes I forget that all hunters don't set up a small village for elk camp.
"No outfitter.  This is just my hobby" I replied sheepishly.  The warden checked my license, declined my offer for breakfast, and went about his business.
I looked around at the large wall tent for hanging out, attached canopy for cooking, more tents for sleeping, and one buddie's truck camper unloaded at our campsite.  I could see why the game warden might assume that this was an outfitter's elk camp setup.
You don't need to have all the gear of an outfitter to go elk hunting.  As a matter of fact, there are some places where you can hunt elk without camping at all.  But for the majority of elk country, camping is the only option.
Obviously, if you are hunting with an outfitter, you will be provided lodging as part of your package.  But check with the outfitter before you commit, so that you know what kind of arrangements you can expect.  From bare bones roughing it to staying in a luxury lodge, you usually get what you pay for from an outfitter.
But if you are going to do an elk hunt on your own, you will need to plan for yourself.  Let's take a look at some of the options and the pros and cons of each.
Motel
Most of elk country is far from urban areas.  But some of the smallest towns in your hunting area may have a motel with a bed and a shower.  But make sure to do your homework.  Many of these little businesses get booked full, months in advance.
Even if you can find a place to sleep, don't count on a restaurant being open at 4 AM to feed you breakfast.  Even if there is an eating establishment, it may be closed by the time you return from your hunt.  Know what to expect.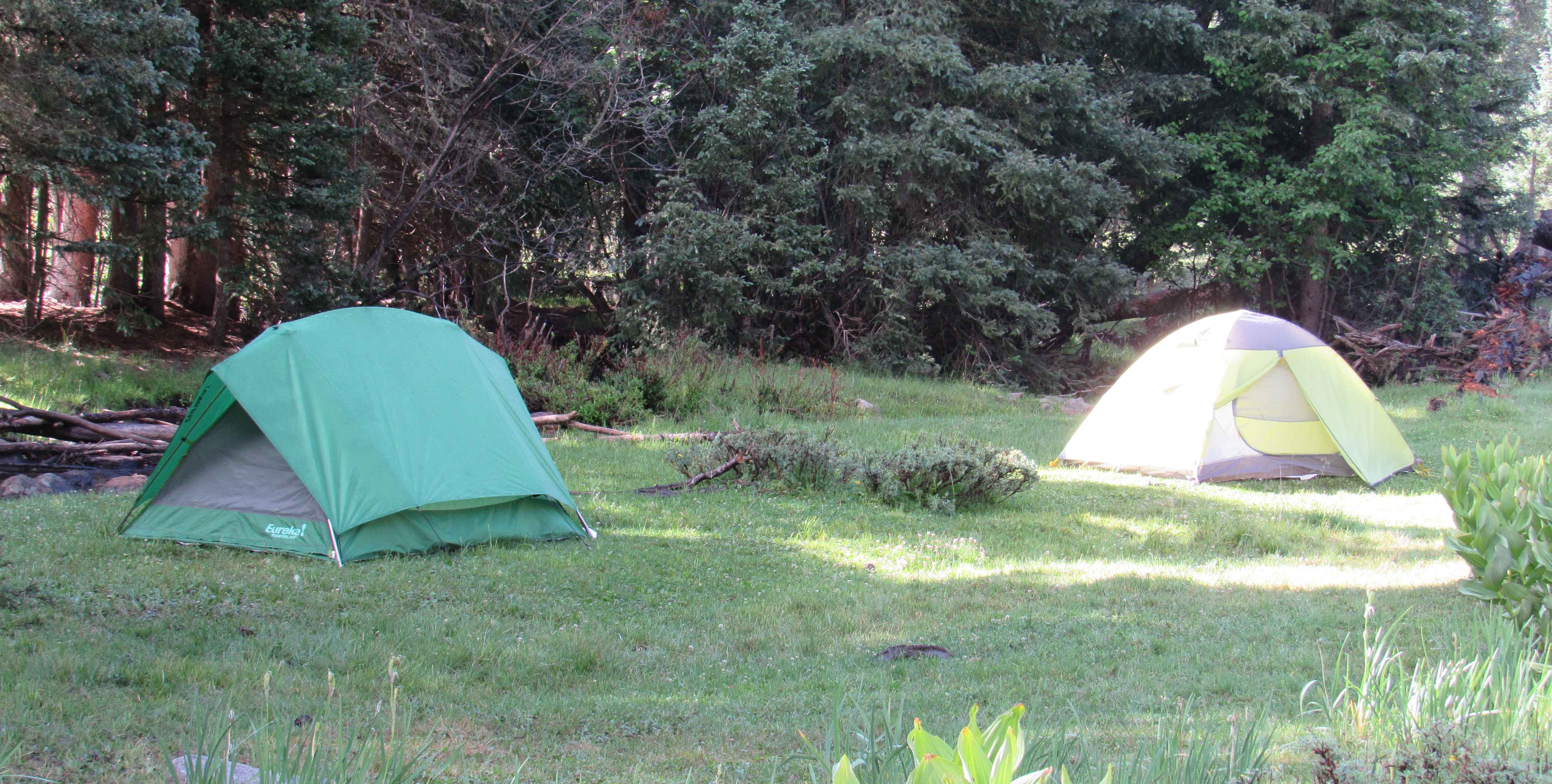 Backcountry
Where you are hunting may determine what type of elk camp you have.  If you are hunting backcountry wilderness, you have a couple of options for getting your camping gear to the desired location.  Either you pack it in on your back, or you have an animal pack it in for you.  Backpacking requires its own specialized gear.  Packing in with horses or other pack animals allows more options, but of course requires the animals along with the gear.
Roadside
If you haven't visited elk country, you may think that packing into wilderness is your only option.  But the reality is that much of the huntable public land has roads that provide access.  Just be aware that most of these roads are not paved and may require four wheel drive in wet weather.
One of the good things about camping along the roadside is that it is easy to bring more gear.  Another good thing is that if you already do recreational camping, you probably already have the gear you need.
One downside to a roadside elk camp is that you are limited to hunting within a reasonable distance from the road.  Heavier than normal traffic on the forest roads can push elk away from the activity.  However, many elk are habituated to vehicles, and are not very bothered.
Tent Camping
If you already have a tent for camping, you can probably make that work for elk camp.  Just keep in mind that a summer weekend in a campground is very different than spending a week in an undeveloped area in the fall at a high elevation.
Warm bedding, a source of heat, a place for food preparation, and food storage are all things to consider.  You may need to dig a latrine and build a shower.  Just know what you are getting into and be prepared.
Camper
If you have a camper, you can certainly bring the comforts of home with you.  But the biggest downside is that your camping locations are limited.  Like motels, there are some RV parks that have full hookups and may be in reasonable commuting distance to your hunting area.  There may even be developed campgrounds on public land.  But most likely you should be prepared to travel down gravel roads that are sometimes muddy, and simply find a place to park alongside the road.
You may need a gas or solar generator to provide power.  In addition, you will need to conserve water to make it last and to avoid filling your holding tanks.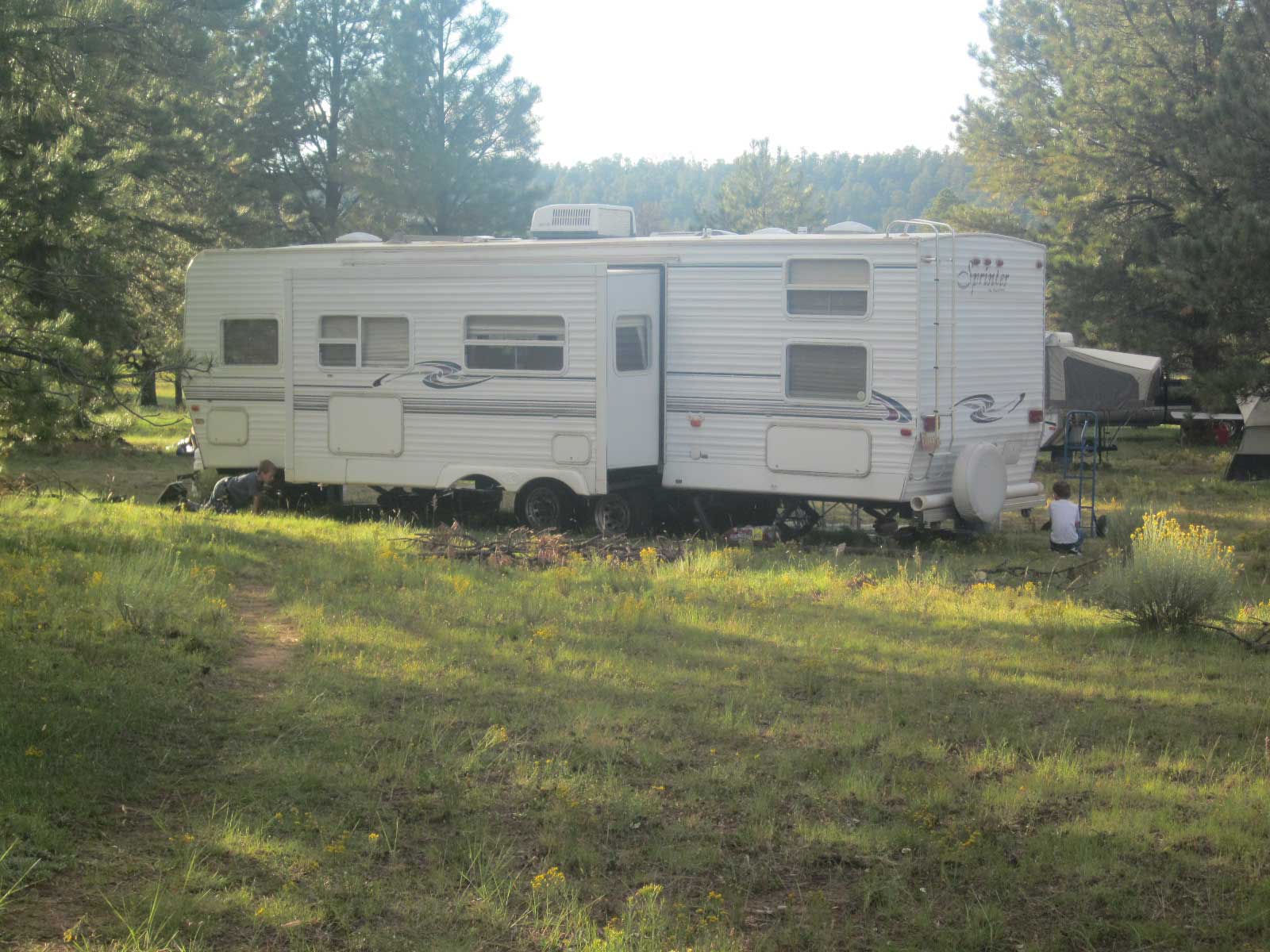 Conclusion
Elk Camp can be one of the most enjoyable parts of elk hunting.  Relaxing at camp in the middle of the day can rejuvenate you and give you the stamina to be successful.  Evenings spent with your hunting buddies can make memories that last a lifetime.  But if you aren't prepared, living in the woods without modern conveniences can be miserable and ruin your hunt.  Do your homework.  Be prepared.  Enjoy one of the best experiences of your lifetime.
The following two tabs change content below.
Jimmie is a retired high tech engineer who now spends his time writing about elk hunting, selling Real Estate, and doing DIY projects.
Latest posts by Jimmie Norris (see all)