Elk Hunting Adventure for Christmas
Give the gift of Elk Hunting and create Adventure Memories of a Lifetime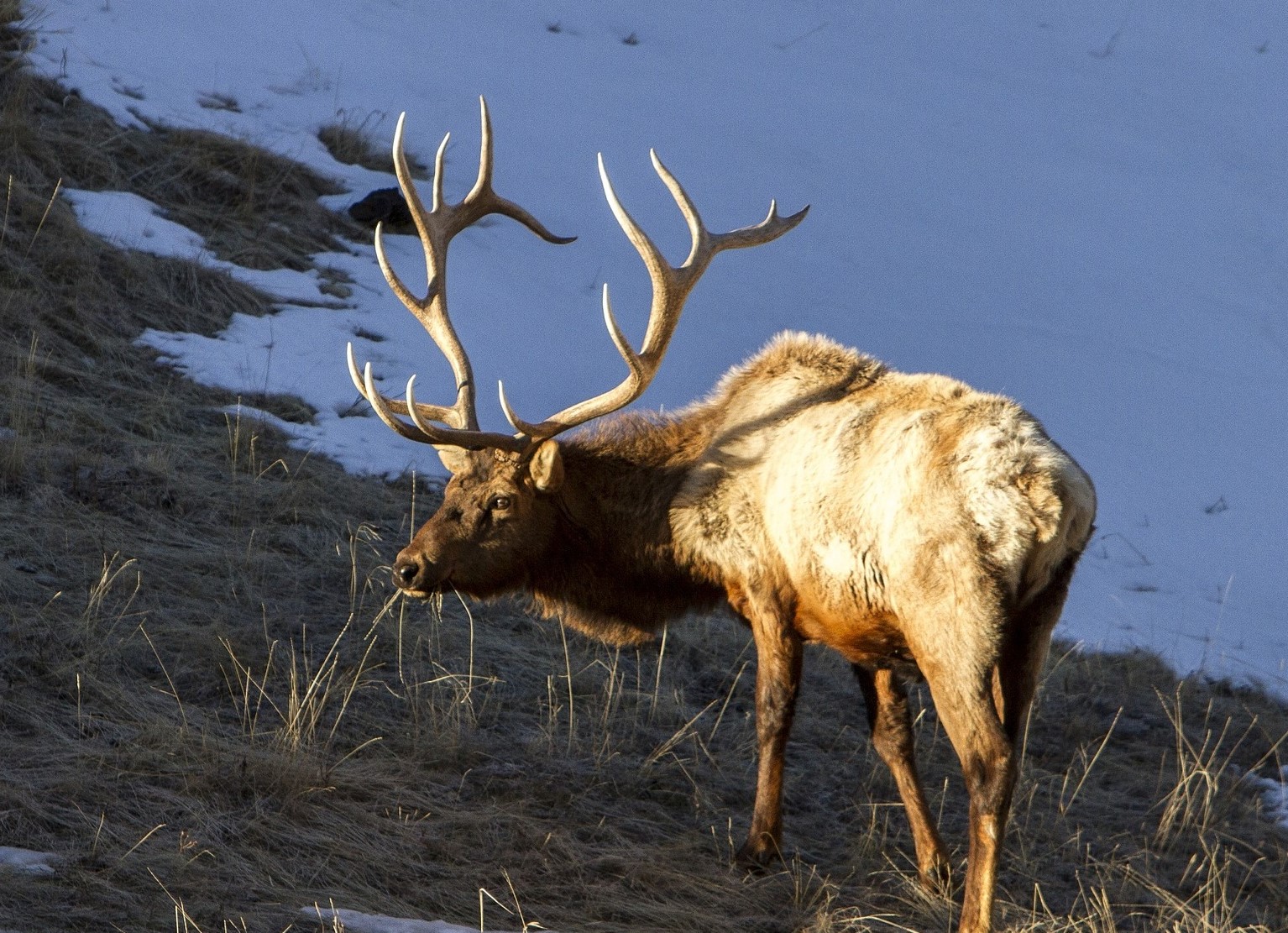 "Maybe this wasn't such a great idea."  That was the thought going through my head as my ATV high centered on a big rock.  Between the tall grass and the darkness, I had failed to see the large stone in my path.
My two sons pushed the Polaris off the obstacle, and I continued the slow climb up the slope. We were attempting to retrieve the cow elk my youngest son had killed at dusk.  Driving up the mountain looked so easy in the daylight.  At least it was easy in my mind. 
My older son followed behind after starting the second ATV with some effort, as the Suzuki wasn't running well.  It was tending to flood and my son had to keep the engine rev'ed to keep it running.  That's not an easy thing to do when you are trying to creep up the rocky terrain.
With heroic effort, and more than one pucker moment, we climbed the slope to the right elevation.  Then we started working our way to the location marked on my GPS.  When we came to a 4 foot drop I hadn't noticed in the daylight, we decided to walk the rest of the way to the cow.
We field dressed the cow by flashlight as the December temperature dropped rapidly.  When we had all of the meat laid aside some distance from the carcass, I asked my boys a question.  Would they prefer to walk back to camp and come back very early in the morning to retrieve the meat?  This would allow us to ride the ATV's down the slope in the daylight.  They were quick to answer an enthusiastic "Yes", and we trudged back to our wall tent and built a fire.  It was about midnight when we got to bed, only to get up a few hours later and climb the mountain again.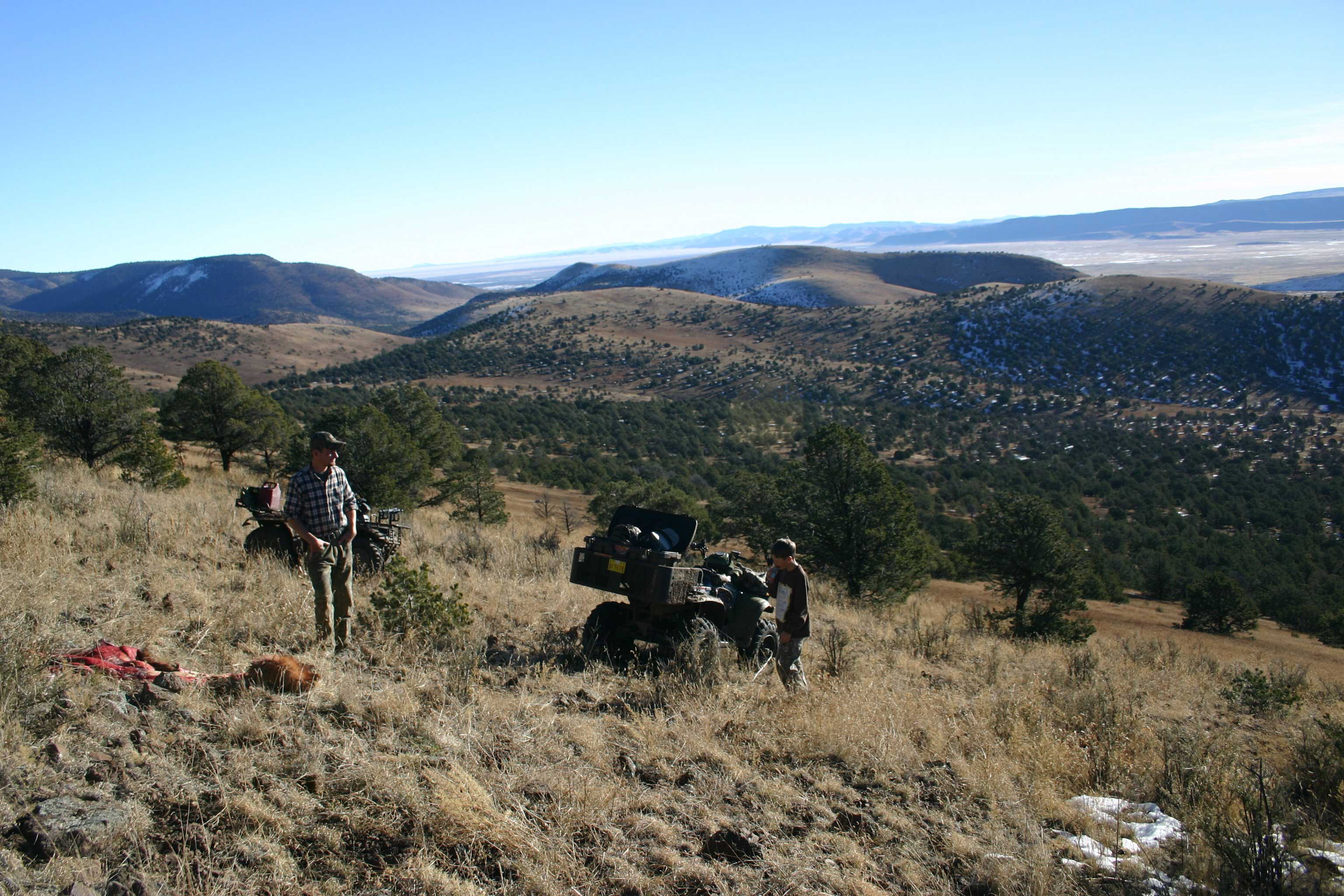 The drive down was not nearly as precarious in the daylight. But it was the beginning of the end of another great adventure elk hunting.  I was blessed to be able to share this hunt with both of my boys, 12 and 22 years old at the time.
Elk Hunting Adventure
My choice to off-road up the mountain in the dark was not a wise one, but the adventure will be etched into our minds for the rest of our lives.  That's one of the things I love about elk hunting.  Every hunt brings adventure that creates memories.  Those recollections are priceless, and grow sweeter over time. 
It may be the sound of a bull bugling on a foggy morning, or the golden eagle launching into flight from the tree just above your head.  It may be the snow flying beneath the elk when the excitement completely throws off your aim.  Or the sight of your arrow buried deep in the bull's chest after calling him into easy bow range. 
The adrenaline rush of close encounters with wildlife never gets old.  I don't grow tired of seeing mountain sunrises, or rainbows after a thunderstorm.  There is no such thing as laughing too much at my buddy's bear encounter stories.  Elk hunting is full of adventure, even if you don't get close to an elk.
Elk Hunting Adventure for Christmas
As I am writing this, Christmas 2018 is one week away.  As a Christian, the holiday has religious significance for me.  But one of the traditional ways to celebrate is exchanging gifts.  I enjoy getting hunting gear for Christmas just like most hunters.  But here is an idea, why not give elk hunting for Christmas?
Think of that family member or friend that would enjoy an elk hunting adventure with you, and make a commitment to go elk hunting with that person next year.  Yes, it will cost some time and money, but you will create priceless memories.  Some of my hunting buddies are now lifelong friends because of our adventures together.  I'm so glad for the hunting memories with my boys.  As their life situations change, we may not be able to hunt together.  I didn't know that my first elk hunt with my dad would be our last, since cancer took him a few short years later.  Don't put it off.
Outfitter or Do It Yourself (DIY)?
If you can afford to hunt with an outfitter, and that's the direction you want to go, it's not too early to start researching to find the one you want.  But if you would rather DIY, you can certainly do that too.  You'll find lots of great information on this site, and I add more on a regular basis through my blog and web pages.  I'm also planning some new things for 2019, so if you haven't gotten my free download, "35 Tips for Successful Elk Hunting", make sure you get it and provide your email address so you'll get all the latest.
Here is wishing you and your family a very Merry Christmas, and a Happy Holiday Season.  May you get or give an Elk Hunting Adventure.
What is your favorite Elk Hunting Adventure?  Take a few minutes and tell me about it right now in the comments below.  I would love to hear about it. If you have never been elk hunting, tell me about your plan.
The following two tabs change content below.
Jimmie is a retired high tech engineer who now spends his time writing about elk hunting, selling Real Estate, and doing DIY projects.
Latest posts by Jimmie Norris (see all)