Looking for an Elk Hunting Tent?
Here are the
Top 3 Considerations
before making your decision.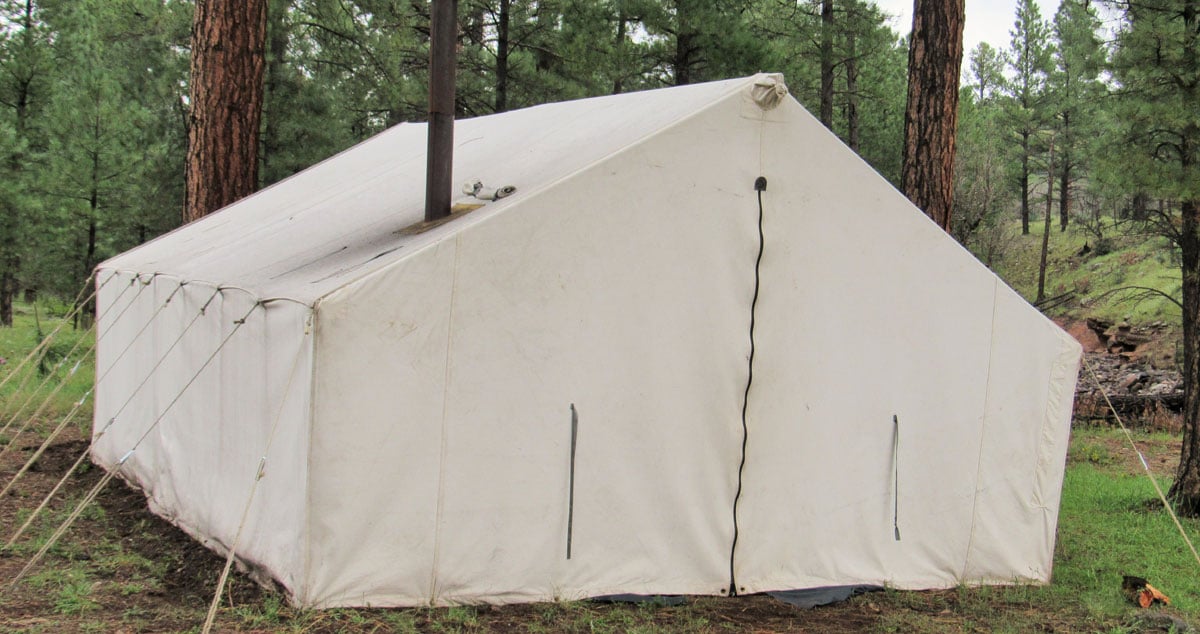 I woke to the sound of rain on canvas.  It wasn't the sound of plum size drops hurtled against the roof.  Nor was it the pitter patter of the sky spitting as it grumbled.  It was the reverberation of a steady downpour that didn't sound like it was moving out anytime soon.
This was my first year of bowhunting for elk, and the monsoon season was in full swing in southwestern New Mexico.  Each afternoon the sun would heat the moisture in the air, building fantastic anvil shaped thunderheads that would produce hair raising thunderclaps and heart stopping lightning strikes. Inevitably, they would dump large amounts of water in a short period of time.  Then they would break up, and wait until the following day to repeat the cycle.
This rain was different.  Unlike the monsoons, this had moved in without much fanfare, and seemed to have taken up residence.  It didn't bode well for my elk hunting plans the next day.
These were the days before waterproof hunting gear.  Yes, I had a poncho in my pack, and when the monsoon deluge began I could huddle on the side of a hill, away from the nearby lightning rods with branches.  I would do my best to make myself even smaller than I normally am, praying that the Great Power Generator In The Sky didn't want to make that kind of connection with me.
But a guy can't reasonably hunt in a poncho.  Besides, my boots would squish with every step.  I wasn't going to be hunting any time soon.  But at least I had a dry place to be.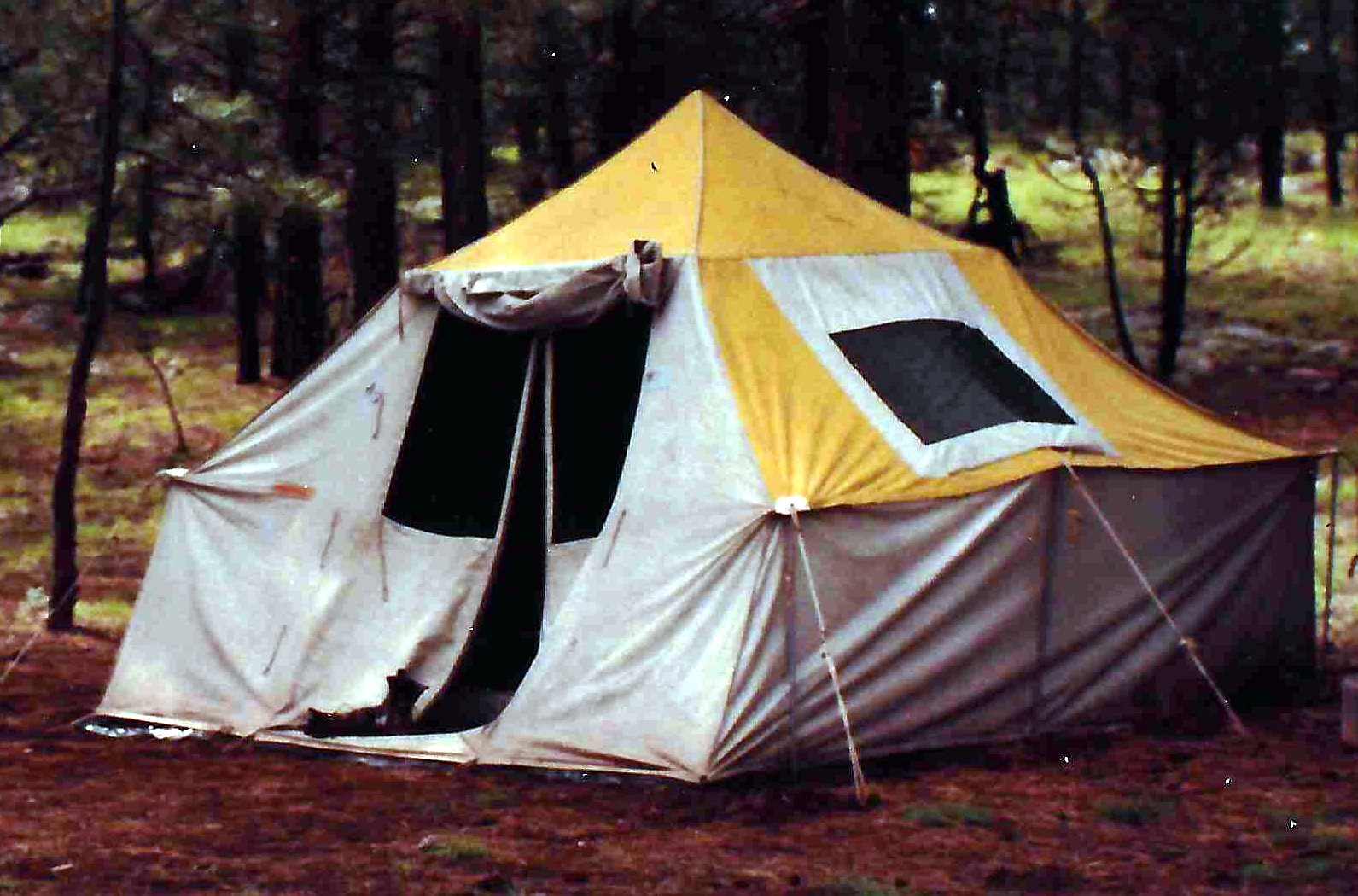 My wife and I had picked up this canvas beauty when I was in college.  It was at a yard sale and we took our chances and risked the five bucks they were asking for it.  It was a classic boy scout model from the 1960's complete with a confusing assortment of rods and straps and ropes and poles.  But it didn't leak.  Much.
After graduating from college, and earning a steady paycheck, I asked my wife if she would like to work toward a camping trailer, or expand on our meager tent setup.  Much to my surprise and pleasure, she chose tents.  Thus began my collection of tents and associated gear that would make an outfitter jealous.
My first major purchase was a wall tent.  The smallest model carried by Cabela's.  Our yard sale bargain worked great as a bedroom, and the wall tent became our kitchen and living room.
The rain storm lasted over two full days.  Not common in this part of the world.  But we felt extremely blessed to be able to stay dry and warm.  The only challenge was finding enough dry wood to feed the wood stove.
Elk Hunting Tent
If you are in the market for an elk hunting tent, what should you look for?  Like most industries, tent manufacturers offer a lot of options, and have come a long way since our ancestors stretched animal skins over wooden poles.  But what is going to work best for you?
The three major factors to consider in an elk hunting tent are Material, Size, and Design.
Material
If you want a tent the will hold up under severe weather conditions, and last many seasons, canvas is hard to beat.  But if you go this route, spend the extra money to get a tent made from marine canvas.  This type of material is treated with a waterproofing substance and it will shed water throughout its lifetime.
Plain canvas must get wet before it will shed water.  The water causes the fibers to swell, causing the weave to be tight enough to prevent water from coming through.  Anything touching the canvas will create a path for water to flow, resulting in a small leak.  Hail or large raindrops can cause a fine mist of a splash on the inside as they pound on the tent roof.  Waterproofing can be applied after the fact, but it is not as effective as waterproofing that is applied during manufacture of the material
One downside of any canvas tent is the weight, and another is the bulk.  But if you are looking for an elk hunting tent for a solid base camp that will last, the tradeoff is worth it.
If you are looking for a lighter weight material, without the bulk, PVC coated nylon is certainly a good option.  My backpacking tent has withstood incredibly heavy rainstorms with a leak.  But larger tents made from nylon tend to flap excessively in the wind.  It can feel like you are sleeping in between a couple of large flags when a storm blows through.  This material is not as rugged as canvas, so beware of dead limbs and pine cones that could fall and puncture your home away from home.
Polyester and polyester blend tent materials have become popular in the last few years.  This material is in between canvas and nylon.  It is not as heavy as canvas and is more rugged than nylon.  While I don't have direct experience with this material, trusted elk hunting family members tell me that it holds up well.
Another consideration regarding tent material is condensation.  Your warm breath touches the cold material and generates moisture.  Nylon is the worst, and will build up considerable amounts of condensation.  That's why most nylon tents are designed with a mesh roof and a rainfly over the top.  This helps the problem but doesn't eliminate it.  Canvas is the best material for preventing condensation, and Polyester blends somewhere in between.
If you are planning a late season elk hunt in cold weather, insulating value of the material is another thing to consider.  While no tent will provide much insulation, canvas does slow the heat transfer better than other tent materials.
Size
How big of a tent do you need?  Probably bigger than you think.  Much of it depends on not only the number of people expected to sleep in it, but also how long you are going to live in it and how you plan to use it.
Tent size is often described in the number of people it can sleep.  But remember that assumes that virtually every inch of floor space is covered with tightly packed people.  My son's 8 person tent was comfortable for him and his wife during our recent elk hunt.  Yes, 2 people in an 8 person tent.   They could have gotten by with a smaller tent, but a good rule of thumb is to double the number of people you expect to sleep.  You want room to put your boots on.
Even if you are planning a backcountry elk hunting trip, and you are the only person sleeping in the tent, go for a 2 person tent.  Again, you will need that extra room to keep your gear out of the weather.
What activities are you planning in your tent?  Are you planning to cook?  Do you need a place to set up a couple of chairs to get out to bad weather?  Do you need room for a tent heater?  All of these things need to be taken into consideration when planning to buy an elk hunting tent.
I have a 12X12 canvas sheepherder's cabin style tent with 4 foot walls.  It makes for great accommodations for my son and me.  There is room enough for 2 cots, a small table with a camp stove, an ice chest, a couple of gear boxes and a couple of camp chairs.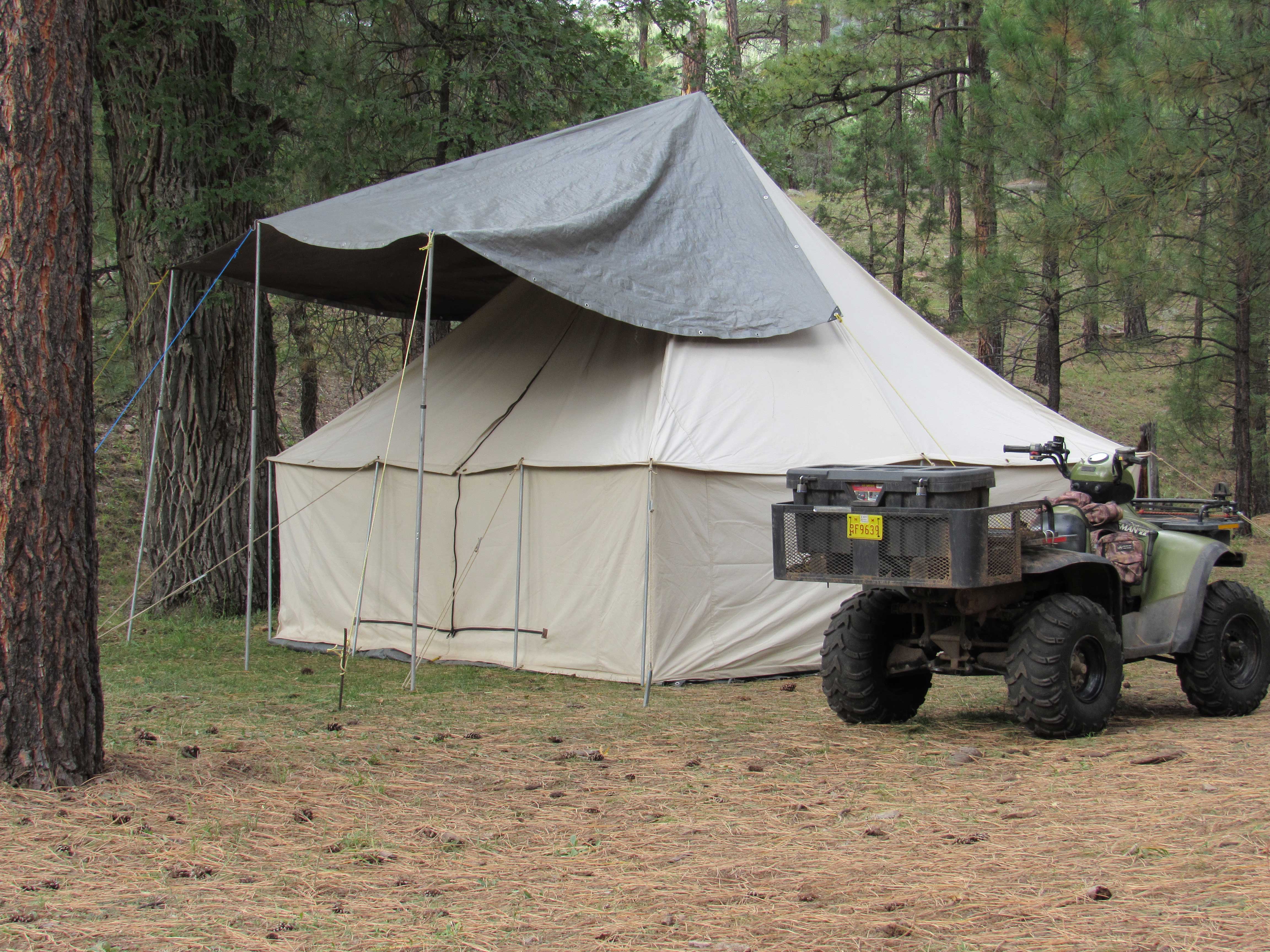 Design Style
Tent designs have made a lot of improvement since the days of my boy scout beauty many years ago.  Each design has pros and cons regarding ease of setup, headroom, and setup hardware.
For ease of description, tent designs can be broken into two major categories: Cabin and Dome.  Each of these designs have many variations, and there are even hybrids.  There are so many styles on the market, that it is impossible to address all of them, but here are some points to consider.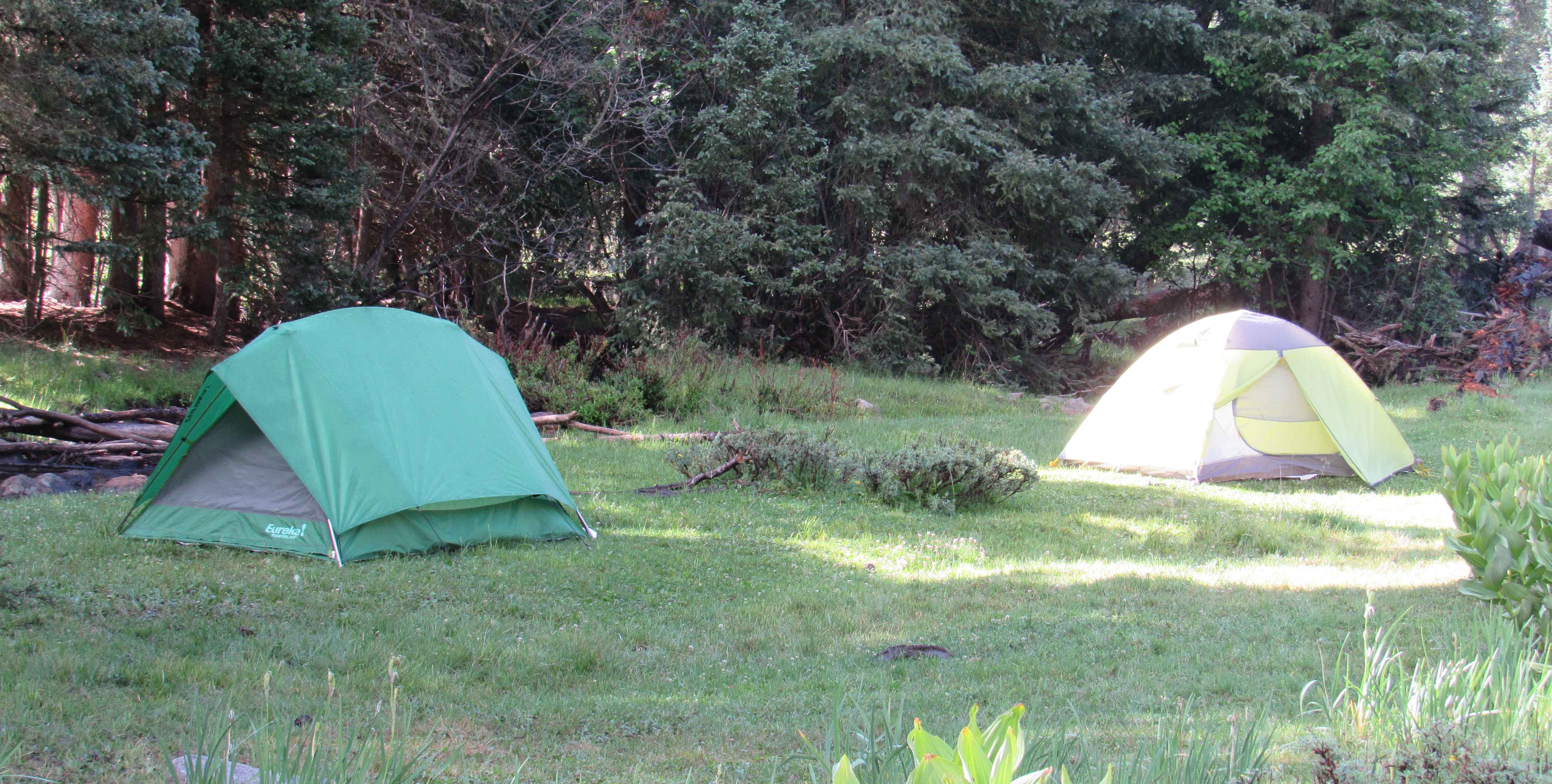 I go backpacking with my son.  His tent is a dome style, while mine is a cabin style.  Both have similar floor space, but my son's has slightly more headroom because of the dome design.  Also, his tent has a door on each side, which makes it handy when two people are sleeping in it.
A large dome tent is easy to set up, but tends to "flatten" or lose its shape in heavy winds.  The shock-corded fiberglass poles are so flexible that it doesn't hold up well.  Yes, it does spring back to shape when the wind stops, but the feeling that it is falling can be unnerving during a storm.
The iconic wall tent is the classic example of a cabin tent design.  Cabin style tents are often more difficult to set up, with rigid poles and ropes staking them to the ground.  However, the stability in rough weather can certainly be worth the extra time required.  Large wall tents will require long sturdy poles for support.  A metal, internal frame makes for a nice, sturdy structure.  Remember that this frame will need to be transported, and stored when not in use.  But as many horse packers know, long sturdy poles can often be cut at your destination and used as an external frame.
Many people make the mistake of making their tent buying decision based on ease of setup.  But an elk hunting tent is going to be your place of refuge and your home away from home for several days.  Spending an extra 20 minutes on setup and takedown is a small price to pay for a comfy secure abode.
Design Features
Other features to consider when deciding on tent design are things like sewn in floors, windows and chimney jacks.
For large wall tents, sewn in floors are not usually an option, because it would add to the difficulty of setup.  However, even my 12X12 canvas tent has a sewn in floor, which is great for keeping dirt and creepy crawlies out.
Temperatures can vary greatly in elk country, so windows in your tent are very important for good ventilation.  Are you going to have a heat source for your tent?  A wood stove?  Consider adding a roof jack to your wall tent to provide that option.  It can make a huge difference in your comfort level.
Conclusion
If you are doing a backcountry elk hunt, then the obvious is a backpacking tent of lightweight material.  Just size it right and choose a design that you like.
If you are camping out of a vehicle, your decision may be more difficult.  Choose the material that meets your need, size it bigger than you first thought, and choose a good design.
Questions
Do you already have an elk hunting tent?  What is it and what do you like about it?
Are you shopping for one?  What material, size, and design are you leaning toward?
The following two tabs change content below.
Jimmie is a retired high tech engineer who now spends his time writing about elk hunting, selling Real Estate, and doing DIY projects.
Latest posts by Jimmie Norris (see all)