Elk Hunting for Youth
Have you considered taking a young person on an elk hunt?
It can be a great experience, but here are some things to think about.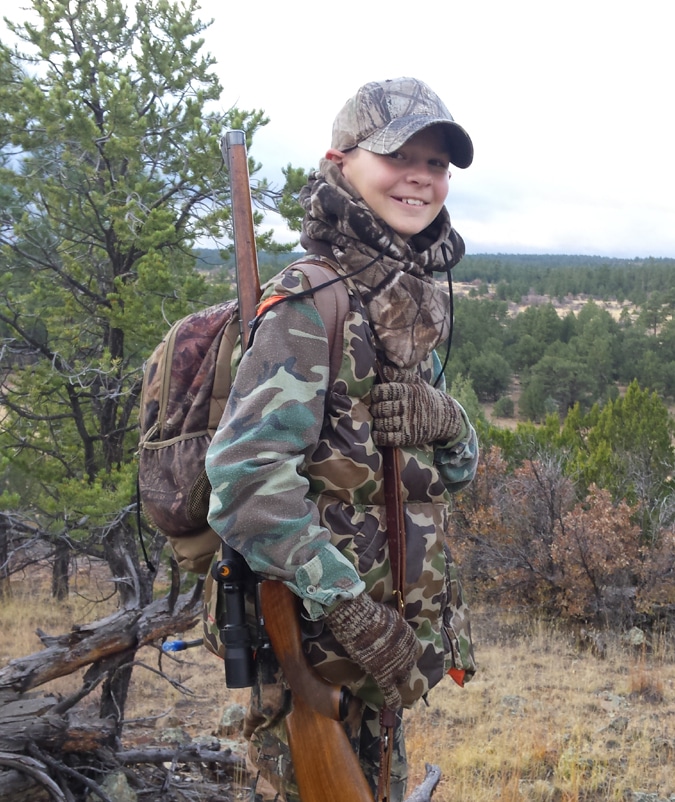 It was frustrating.  My son and I spent the first two days of his 5 day youth elk hunt in a location with no other hunters, and very few elk.  Then we decided to relocate to an area with more elk, but also more hunters.
On day 3 of the hunt, our first evening in the new location, we heard multiple bugles.  But the bulls were across the highway in another hunting unit.
During the morning on day 4, we heard several shots, then met the young man who had fired them.  He was supported by a large group of family members.  They were confident that he had hit his target, but were waiting to look for the cow elk until it had time to expire.
On the evening of the 4th day, we again heard the bulls across the highway, but saw nothing in our unit.  As we were approaching our camper after dark, we heard a bugle not far away.  It was clearly on our side of the road.
The next morning, the last day of the hunt, my son and I were ready to go well before daylight.  We listened intently, and were rewarded with a bugle not far from our camp.  It sounded like the one we heard the previous night.
The bull bugled every few minutes, revealing his location.  The wind was in our face, but it was still too dark to move quickly.  As the eastern horizon changed from black to gray, we were able to start closing the gap between us and the bull.
Although it's hard to estimate the distance to a bugle, he sounded like he was within 100 yards.  We began to look for a location that my son could set up, and I could cow call.  Hopefully this would entice the bull into an opening for a shot.
About this time, we heard an ATV.  In prime time.  While I often use an ATV for hunting transportation, I do my best to avoid driving in the early morning or late evening hours.  This is the best time to see and hear elk, and I don't want to mess it up for me or anyone else.
The sound of the ATV got closer.  It passed between us and the bull, and then stopped.  Less than a minute later a shot rang out from the ATV riders.  The sound of elk crashing through the trees dashed our hopes like a dead pine toppling to the ground.
I wasn't angry, I was frustrated.  This was public land, and this type of scenario is to be expected.  What pained me most was that this youth hunter had just learned to road hunt.  Illegal in some situations, unethical in most.  Maybe they just slept in late and were driving to their hunting spot when they happened on the elk.  I'll give them the benefit of the doubt.
We moved on and ran across the young man and his dad, trying to find tracks.  They were sure the shot was good, but after we searched with them for some time, we found no blood.
That afternoon we hiked into the thick woods, hoping to find some sign of elk.  It was the last day.  Our last chance for the season.  We finally sat down near the highway and started cow calling.  The bulls in the adjoining unit responded, but didn't come our way.  But we had lots of laughs as my son made his first attempt at using a diaphragm call.
As the October sun began to dip below the horizon, we made our way to a clearing.  This wide swath had been clear cut years before to make way for the high voltage power line that passed through.  It created a great meadow in the thick woods that attracted cattle, elk, deer, and other wildlife.
As we sat on the edge of the opening, we thought we heard a distant bugle somewhere on the other side.  It didn't really sound like a clear bugle.  Since it came from the direction of most of the hunting camps, we thought it might be a young hunter.
After a time we heard it again.  We still weren't sure it was an elk, but we crossed the clearing so that we could be ready, just in case.
With only about 10 minutes of the season left, a spike bull stepped into the opening about 60 yards away.  He had no idea we were there.  As the bull fed on the lush grass, we worked our way around to get my son a solid rest and a clear shot through the brush.
The loud crack from the youth model .308 Savage pierced the relative silence.  The bull humped up and I knew that he was hit.  I encouraged my son to jack another cartridge into the chamber, as the bull took a few steps forward behind some small oaks.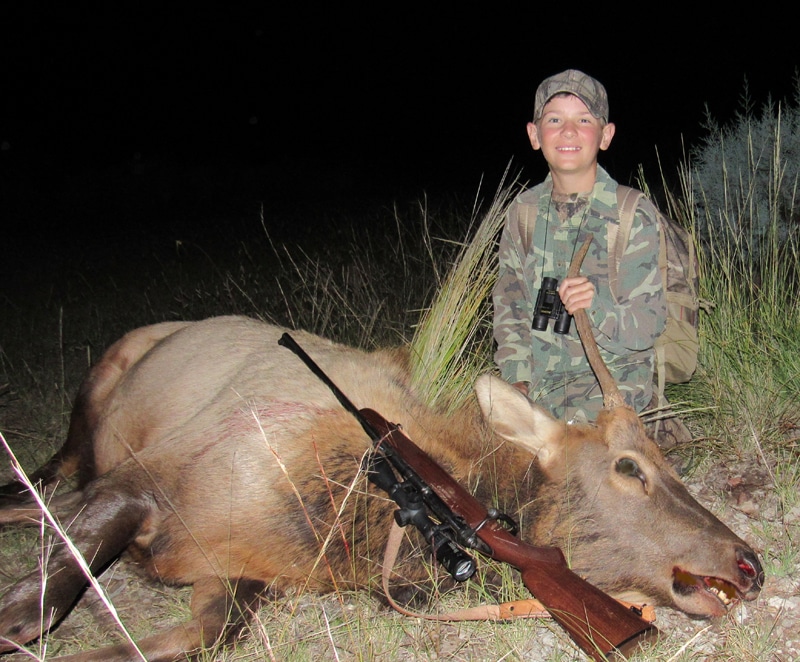 We tried to maneuver around so my son could get a follow up shot, but we also did not want to spook the bull.  Adrenaline can cause a mortally wounded elk to travel a long way.  If he expired here, he would be easy to retrieve.  If we pushed him, it could be difficult.  I really did not want to give my son a lesson about blood trailing in the dark.
After a few minutes, the bull laid down and eventually his short life ended.  We admired his one antler and one broken stub, while I teased my son about killing a unicorn.
Youth Elk Hunts
Even though he just turned 13 years old a few days before the hunt, this was not my son's first elk.  This is largely due to special youth hunts in our home state of New Mexico.  Like this one, some of these hunts are scheduled after the archery season ends, but before the black powder or rifle seasons begin.  This puts these hunts at the tail end of the rut when the weather is still reasonably warm.
Other hunts are scheduled over Thanksgiving weekend, and also include the next two weekends.  This allows an elk hunting opportunity with minimal impact to school schedules.
New Mexico has another program to encourage youth into hunting.  The New Mexico Department of Game and Fish holds some cow tags in reserve in units with high elk populations.  If a youth hunter fails to draw a tag as part of the lottery system, these cow tags are available on a first come, first served basis.
Other elk hunting states also have special elk hunts for youth.  Between school, extracurricular activities, and video games, there are a lot of things competing for our young people's time and attention.  It's important that our state game departments and we as adults do what we can to involve youth in hunting.  The future is in their hands.
Start Young
Elk camp has always been a family affair for me.  My eldest son was just 5 months old when he went on his first elk hunt.  Of course his mother deserves all of the credit for braving the freezing temperatures, howling wind, and curious field mice.  But each of my kids accompanied me in the field as they got older.  The girls didn't take up hunting, but my two boys did.
Set Up for Success
The New Mexico Game and Fish Department schedules youth hunts to maximize the chances of success.  We adults also have the responsibility to give our youth a positive hunting experience.  Here are some things to consider:
Be patient – young people will make mistakes.
Don't overdo – Don't push too hard physically and make them miserable
Keep them comfortable – Make sure their clothing and gear are warm and comfortable
Realistic Expectations – Don't promise a monster bull, or even a shot. Help them understand why it's called "Hunting".
Check your own emotions – Kids will pick up on your frustration and disappointment
Teach your Children Well
Spending time in the elk woods with a child is a great opportunity to bond and teach about life, not just hunting
Safety – Help them develop good habits for gun handling
Survival – Take time to show them how to build a fire, and a shelter. Teach them how to obtain clean drinking water and how to use a compass
Ethics – Help your young hunter understand the importance of clean kills, fair chase, and taking care of the environment
Skills – Hunting with youth is a great opportunity to teach them about scent, wind direction, walking quietly, not getting lost, and a host of other valuable lessons
Success – Help them understand that the definition of a successful hunt is not in the killing, it's in the experience
Nature – Teach them about plants, insects, and animals of all kinds. Show them how all creation works together and what our part is as humans
Have Fun
Finally, allow your child and yourself to have fun.  Chill out and enjoy the experience.  They grow up all too quickly.  Make memories that will last a lifetime.
The following two tabs change content below.
Jimmie is a retired high tech engineer who now spends his time writing about elk hunting, selling Real Estate, and doing DIY projects.
Latest posts by Jimmie Norris (see all)