Elk Hunting Gaiters
Are these on your Elk Hunting Gear list?
Should the be?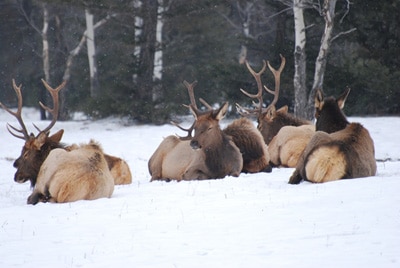 If you would rather watch a video than read a post, check out the link on the left.  It's my first attempt at a video log (VLOG), and I have lots of opportunity for improvement.  I have written a more conventional post below, and it's not the same as the video, but the bottom line is the same.  Either way, I would like your feedback.  Let me know in the comments below if you would rather watch a video or read a post to get elk hunting information.  
The Early Days
The year was 1991, and it was my first year archery hunting for elk.  It was a very wet September in southwestern New Mexico.  Every afternoon the clouds built over the mountains, dark and ominous.  Then they would dump their liquid load on the landscape.  The only rain gear I had was a plastic poncho.  It worked OK to sit and wait out the 45 minute storm, but walking through the tall grass would soak me from the knee down.  My boots were not waterproof, and neither were my pants.  
After that I bought some rubber bottom, leather top boots from LL Bean to hunt in, and I tried to find some gaiters.  But all I could find was nylon gaiters for cross country skiers.  I knew they would make too much noise for hunting.  I bought some camouflage fleece material, and talked my wife into making some gaiters based on my design.  The next year I was prepared.  The boots kept my feet dry and my homemade gaiters helped to keep my pants dry.  I liked the gaiters so much, I would even wear them when it was dry, because I felt that I could walk more quietly in them.
Eventually I found some elk hunting gaiters that are made of fleece and lined with Gore-Tex.  They are an essential part of my hunting gear.  I don't wear them on dry days anymore because I have quieter hunting pants, but they are a true blessing when it is wet.
Overlooked Gear
I participate in multiple hunting groups on Facebook.  There are many discussions about hunting gear.  Rifles, scopes, binoculars, boots, are discussed time and again, but rarely is there a thread about gaiters.  But if you are going to be prepared for any kind of weather, a good pair of elk hunting gaiters will be a great addition to your gear list.
How About You?
Do you wear gaiters when you hunt?  Have you ever thought about adding them to your gear list?
Take a minute and share your thoughts in the Comments section below
The following two tabs change content below.
Jimmie is a retired high tech engineer who now spends his time writing about elk hunting, selling Real Estate, and doing DIY projects.
Latest posts by Jimmie Norris (see all)