Elk Hunting Maps
Do you need a map for elk hunting? 
What kind of map do you need?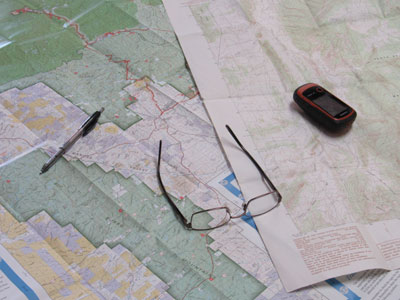 I stopped the truck to examine the tracks in the snow that crossed the road.  The storm that blew in the day before had left about an inch of white dry powder covering the landscape.  It didn't take a detective to tell that a small herd of elk had been through here within the last few hours.
My father and I were on our first elk hunt in the mountains of southwest New Mexico.   The first day of the 5 day hunt was somewhat miserable.  The cold wind was howling ahead of the quick moving storm.  Dad had missed a small bull the first morning due to the wind and a scope that was a bit off.  I hadn't seen a thing.
But today was starting out much better.  The wind had settled and the light snow was going to make for good tracking.  May dad and I made a plan.  I would follow the elk tracks and he would drive around and hunt the other side of the ridge.  The elk seemed to be going that direction, so maybe he could get ahead of them or I could catch up to them.  We would meet later in the morning somewhere on the other side of the ridge.
I cautiously followed the meandering tracks left by the herd as they fed up the long gentle slope.  Glassing through the pine trees ahead of me, I hoped to see a patch of brown or beige or better yet, ivory tipped antlers.
After following the muddy hoof prints in the snow for a couple of miles, I came upon a spot where the group had bedded down.  The copious amounts of sign told me a couple of things.  First, the elk were plenty relaxed when they stopped here.  It was not your typical dark timber bedding spot, just a place to relax during the night.  Second, it had been several hours since the elk had been here.  The chances of catching up to them were very slim.
I began to think about meeting up with Dad.  We hadn't been very specific about our rendezvous, because we didn't know the area very well.  This was before the days of cell phones, which probably wouldn't even have service at that location today.  We also didn't have two-way radios or any other means of communication.
I left the elk tracks after observing their general direction, and began the fairly easy climb to the top.  Before reaching the summit, I stumbled upon an old logging road.  The two track hadn't been driven in a very long time, but it eventually led to another road with fresh vehicle tracks.  I followed that path to the top, hoping to see my old truck parked nearby.  Instead, it led to a fork in the road.
Which way to go?  Left might take me to the main road that went by camp.  If not, I would have to backtrack uphill and take the other fork.  Going right would definitely take me in the direction of one of the main roads, but I had no idea how far away.  I chose the definite.
After walking several more miles, I heard the welcome sound of my old Ford.  My dad had been driving around the old roads looking for me for about 3 hours.  Not the best way to spend our limited time hunting.
Most of my experience hunting up to this point had been chasing mule deer in an area that was familiar to me.  When I worked as a guide, I spent all day every day on the ranches we had leased and the surrounding public land.  Needless to say, I knew the area like the back of my hand.  Even though my Dad and I had spent a couple of days scouting this elk hunting area, there was a lot that we didn't know.
Importance of Maps
If I had been carrying a map of the area when I was hunting that day, I would have learned that the left fork would have quickly taken me to the main road.  It probably would have saved me miles of walking and hours trying to connect with my father.
I've learned a lot since that first Do It Yourself (DIY) elk hunt on public land.  Now, good maps are a crucial part of my hunting gear.  I guess you could say that they are my American Express of hunting gear.  I never leave home without them.
Maps are not only helpful to prevent you from getting lost, they can help you be a better hunter.  Looking at a map, you can identify terrain features that are potential elk hangouts.  When you see elk in the field and they suddenly disappear, a map can help you determine likely destinations. 
Paper or Digital
Before the days of digital everything, there was obviously only one medium available for hunting maps: paper.  But if you think digital maps have made paper obsolete, think again.  Both formats have their strengths and weaknesses.
Sitting at your desk, with a map on a large computer monitor is a great way to plan your elk hunt.  My favorite interface for this task is Game Planner Maps (gameplannermaps.com).  Their free map viewer has access to all of the public data sources for western elk hunting states.  It has multiple layers that the user can turn on or off to see only the desired information.
Digital maps in a small form factor such as GPS or smartphone app are very useful too.  Being able to see property boundaries and nearby topography at a glance can potentially save you lots of time and trouble.  However, the big downside of the small screen is the lack of the big picture. 
Large paper maps have the advantage of being able to look at your entire hunting unit on one page.  Or viewing a full ridge or drainage with all of the different finger ridges and cuts.  That's not really doable any other way.  Another plus for paper hunting maps: the batteries don't die.
Elk Hunting Map Sources
Paper Elk Hunting Maps
Public land maps can be obtained directly from the public land entity, typically US Forest Service (https://www.fs.fed.us/visit/maps), or Bureau of Land Management (https://www.blm.gov/maps)  Most of these maps are a very large scale, such as 1 inch = 1 mile (USFS) or 1:100,000 meters (BLM).  The best use for these maps is determining general access to your hunting area and high level property boundaries.
The USFS does have some topographic maps available, but I'm pretty confident that the source for the data is the United States Geological Survey (USGS).  Topographic maps based on USGS data, sometimes referred to as 7.5 minute maps, are the most common and the most useful. 
The USGS started surveying in 1884, and has been producing maps since then.  The scale on these maps 1:24,000, and covers 7.5 minutes of latitude and 7.5 minutes of longitude.  Paper maps are available online at https://store.usgs.gov/ .  Since the data for these maps are readily available, it is the most common source for commercially available maps.
One of the downsides of the standard USGS maps is that the area you are interested in may not be on a single map.  It may be on a corner of one map and the corner of another, requiring you to buy several maps to cover your area.  This is where custom maps come in. 
Some outdoor stores have machines that will allow you to create and print custom maps.  Online companies such as MyTopo (mytopo.com) offer paper maps based on the options you choose.  These companies provide maps printed on waterproof paper, covering a custom identified area, and have different overlay options.  This allows you to get just the information you need on one map.
Digital Elk Hunting Maps
Even though I find paper maps to be indispensable, the digital revolution has brought new capability to hunting navigation.  Digital hunting maps are most useful in two ways: Planning your hunt on your home computer, and quick navigation in the field.
Planning with Digital Hunting Maps
Multiple different websites have free map viewers that allow a hunter to virtually explore hunting terrain.  This is extremely valuable when trying to decide what area or unit you want to hunt.  Once you have decided on the area, you can "e-scout" by locating potential water sources, bedding areas, feeding spots, and travel corridors.  You can identify access roads, established trails, and potential camping spots.
 Garmin has an app that is free to download for Windows and Mac.  MyTopo also has a free map viewer as does GamePlannerMaps.  These allow the user to toggle different layers of map data for roads, vegetation, water, land ownership, satellite imagery, etc.
Navigation with Digital Hunting Maps
The beauty of the modern digital world is that so much information is available in the palm of your hand with a mobile device.  The two mobile form factors most commonly used for digital hunting maps is a smart phone and a Global Positioning Unit (GPS) unit. 
Since virtually all smart phones are equipped with GPS for navigation, all you need is an app and a data source with the map information.  OnX (onxmaps.com) offers various levels of service for an annual subscription price.  When shopping for an app and/or subscription service for your hunting maps, make sure the maps you are interested in are available offline.  Much of elk country does not have cell phone coverage, and if you are depending on that to navigate, you may be out of luck.
The other mobile device for digital hunting maps is a GPS unit.  These have been available since long before the smart phone.  Many GPS units have features not available in smart phone apps.  Another advantage is batteries.  Most use easily replaceable AA batteries, which is much more convenient than trying to find a way to recharge your smart phone.  Topo maps are available as Secure Digital (SD) cards to purchase by state.
Conclusion
Maps in all of their different formats are a very important tool in planning and actual hunting.  This article wasn't intended to be a comparison of the different hunting map suppliers, so make sure the map, app or device has the features you are looking for before buying.  There are other products from other companies that I didn't mention, but these are some that I am most familiar with.
What About You?
Do you use maps for hunting?  If so, take a minute and tell me in the Comments section below what your "must have" features are in a hunting map.
The following two tabs change content below.
Jimmie is a retired high tech engineer who now spends his time writing about elk hunting, selling Real Estate, and doing DIY projects.
Latest posts by Jimmie Norris (see all)