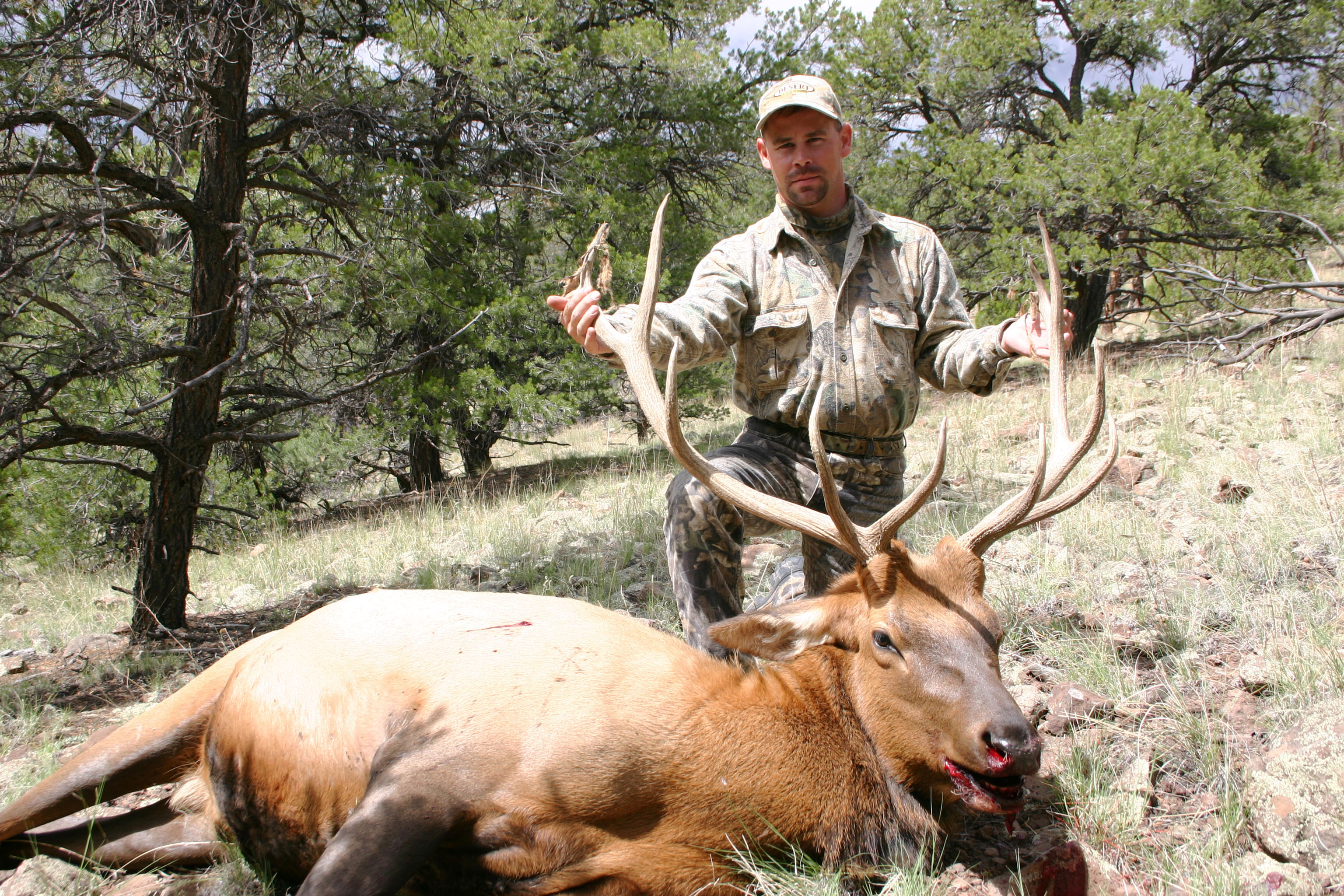 Changes Can Be Good!
I'm making some change here at elkhuntersguide.com.  Now you are going to get two for your money!  It's still free!  This video is an introduction to a very accomplished elk hunter.  He just happens to be my brother-in-law and hunting partner.  We are going to be working together to share with you what we have learned from our elk hunting experience.  Between us, that's over 50 years of elk hunting!
Video Transcript
JN:  Hi, I'm Jimmie Norris with elkhuntersguide.com.  Today's video is going to be a little different, instead of just hearing from me, I'm going to introduce you to my brother-in-law and hunting partner, Larry Harlan.  Thanks for talking to me today, Larry.
LH:  Thanks for inviting me, Jim.
JN:  Larry's been hunting with me for quite a few years.  He married my wife's sister, so that's how he's my brother-in-law.  He's going to start recording videos with me, so you get to hear his perspective and learn from his experiences too.  Larry, I want people to learn more about you, so where did you grow up?
LH:  I actually grew up in the desert country of central Arizona, about 90 miles east of Phoenix.
JN:  And when did you start hunting?
LH:  My dad was a hunter, so I grew up hunting, going with him and my mom.  I started hunting when I was old enough to take the hunter safety course.  About the age of 10 was my first deer tag.
JN:  When did you first start hunting elk?
LH:  I wasn't able to draw an elk tag in Arizona until I started archery hunting.  I was probably 21 or 22 years old.  Since then, I've had 25 elk tags.
JN:  Out of those 25 elk tags, how many elk have you harvested?
LH:  I've harvested 18 elk.
JN:  Wow!  18 out of 25!  That's a really high percentage compared to the average.  You realize that, right?
LH:  I do, I do.  But, I'm a meat hunter, so part of those 18 elk have been anterless, part of them have been small, younger bulls, but I've been fortunate enough to harvest 3 Pope and Young bulls as well.
JN:  Larry, what's your favorite thing about elk hunting?
LH:  I don't think I can narrow it down to one thing, Jim.
About my top 3 – one is just the elk itself.  Growing up in central Arizona hunting mule deer and coues whitetail, the elk is just so much bigger.  To me, it's just majestic.
Most of my experience is archery hunting.  But to have an 800 to 1000 pound animal in that close of distance to you, and watching their behavior and hearing them talk.  Not only the bulls, but the cows.  They communicate all year.  Just that sound to me, there's something that is just exciting about it to me.
Like I said, I'm primarily a meat hunter.  So, elk to me is my favorite.  I love deer meat, but I like elk meat just that much more.  When you are able to harvest an elk, you get two to three hundred pounds, depending on the body size, of meat.  That tends to sustain us for a good portion of the year.
I think the third thing about elk hunting to me is, that's been my 2 week vacation every year for all these years.  My wife's very supportive of it.  But it's a family adventure, for not only me, but for you as well.  Our families have shared that.
My sons have learned how to ride their bicycles in elk camp.  The years that we harvested elk, we go back to camp, and everybody goes out.  We quarter that elk, and we pack it out, and bring it back to camp, and clean it.  And then we enjoy it the rest of the year.
We've had a lot of great memories in elk camp, some wet years, some dry years, some snow years in September.  There's just a lot of memories that we've made, not only as hunters, me and you.  But the families got to experience it with us, being in camp.
JN:  Yeah, our kids look forward to elk camp every year.  Now, our boys that were so tiny when we started out, are now our hunting partners.  That's just been an awesome experience all these years.
Well, Larry's going to be recording videos with me, so you get to learn from him.  We're looking forward to it.  Thanks Larry!
LH:  Glad to be a part of it, Jim.
JN:  Head on over to my website:  elkhuntersguide.com.  Until next time, shoot straight.
What About You?
Have you been hunting with someone for a lot of years?
Do you take your family to elk camp with you?
Share with us in the Comments Box below.
The following two tabs change content below.
Jimmie is a retired high tech engineer who now spends his time writing about elk hunting, selling Real Estate, and doing DIY projects.
Latest posts by Jimmie Norris (see all)